We're pleased to offer the following services at Karing for Kreatures Veterinary Hospital: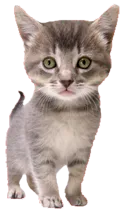 Care can be provided for all species. Services include everything from general practice medicine, emergent and critical care, dentistry and surgical procedures. Our veterinarian is fear free certified and practice gentle low stress handling for the best experience for your pet. Our appointment book is computerized, which allows us to efficiently make appointments for you and your pet. Our receptionists and team will attempt to accommodate all requests to the best of our ability. If you feel you have an emergency with your pet, please call us immediately.
Emergency & Urgent Care

We have a veterinarian and personnel on duty five days a week who are trained and equipped to handle any urgent care your pet has. Usually an emergency team consists of the veterinarian and several technicians working together to save a pet's life. Emergencies such as accidental ingestion of rat poison, hit by car, and chocolate ingestion are just a small sample of what we are prepared to respond to, if necessary. If you ever feel that your pet needs emergency treatment, do not hesitate to call.
We are also available for urgent care when the condition is not life-threatening. If you feel your pet needs to be seen before you are able to get an appointment, our veterinarians will work to "squeeze" you in between scheduled appointments. When you arrive, our receptionists will be able to give you an estimate on how long you may have to wait in order to be seen.
Dogs
Cats
Rabbits
Pocket Pets
Reptiles
Birds
Discounts

Karing for Kreatures Veterinary Hospital offers 10% discounted services to Military.